Yuma, AZ Dog Grooming Service


Giggles Dog Grooming - About Us:

Yadi and Family members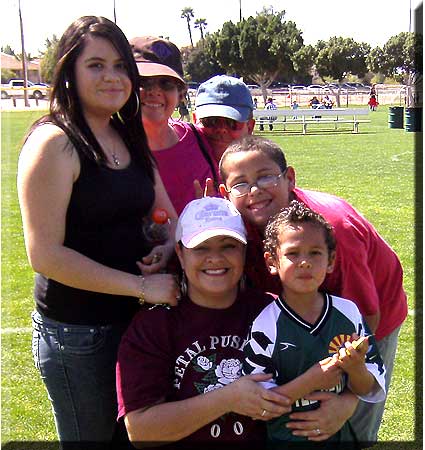 About Giggles dog groomers:
Giggles is a Family owned pet grooming service, YADI and JOAQUIN are fully qualified professional pet groomers. They are both Yuma natives and Arizona Western College (AWC) graduates with over 15 years each of dog grooming experience. They have worked for different grooming companies and have attained different skills and techniques thru the years. Both YADI and JOAQUIN have worked their mobile pet grooming service with a great deal of success.

After many successful years of offering our mobile dog grooming service, we now feel we can better serve our clients and the Yuma community by offering our professional equipped and staffed Salon.

Our Pet Grooming Salon offers many features that allows us to dedicate more quality time with your pet. Quality time allows us to not only groom and style your pet, we can also check them over closely.

To be able to spend more time with your pet, our groomers may notice other problems that may arise such as lumps, cuts, thorns between paws or anything abnormal.
---

Our clients speak out:


Yadi has done my dogs for 8 years and I would not go anywhere else to have my kids done.

Gail Haines



Yadi has groomed Fritz for 4 years we have received many compliments on his grooming. Does not get any better than that.

Dave Parker



Yadi is the best. My dog is always happy to go in the door for his grooming and he always comes out beautiful.

Ellen Thomas

---


Contact Us | Site Map